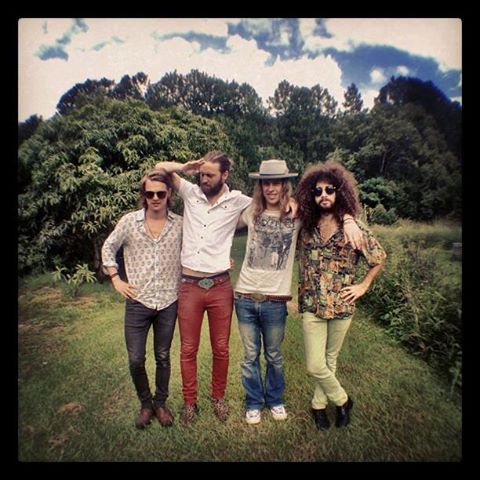 Triple headed space blues rock monsters DEWOLFF release a new double single in Australia through GoSet Music. 'Crumbling Heart' from their self-titled opus DEWOLFF IV and 'Gold and Seaweed' – a must listen for any fan of psychedelic rock.
DEWOLFF blew audiences away with their organ-fuelled brand of rock on their March 2013 tour of Australia, including WOLFMOTHER's bassist Ian Peres, who invited them to jam at Dave Atkins' Hydrofunk Studios on the Gold Coasst.
The fruits of their jam is available as a free download, CLICK HERE.
Described by reviewers as 'Wild and Exciting', with a growing live reputation that has earned them Europe's 'Must See Live Band' tag by Rolling Stone, stay tuned for news of their new upcoming album and Australian tour. "DEWOLFF IV is a feast for the upper astral psyche, a manifest of geniuine space rock. Featured on this double sided musical compendium is the 20-minute, seven volume opus "A Mind Slip", full of higher dimensional swagger, exotic wave modulations and mojo". GoSet Music has also released DeWolff's back catalogue, their first two studio albums Strange Fruits & Undiscovered Plants (2009) recorded when the average age of the band was just 16 and Orchards/Lupine (2011) in a special double album Australia Only edition. Crumbling Heart / Gold and Seaweed is released Friday 20th December 2013, via GoSet / MGM. DeWolff perform 'Crumbling Heart' at Music Feeds, Sydney http://www.youtube.com/watch?v=DF90dEg-DHs DeWolff Live on a Melbourne Tram! http://www.youtube.com/watch?v=84yfJttI3S4 Click here to view DeWolff LIVE at Pinkpop Festival: http://www.youtube.com/watch?v=XyhZg6r93CU RELEASE INFO ARTIST: DeWolff TITLE: Crumbling Heart / Gold & Seaweed FORMAT: Double A-Single REL. DATE: Friday, 20th December 2013 LABEL: GoSet / MGM